Publications
Exhibition catalogue: Unfinished Metropolis
Volume 1: 100 Years of Urban Planning for Greater Berlin
Volume 2: International Urban Planning Competition for Berlin-Brandenburg 2070. Perspectives from Europe
Editors: Architekten- und Ingenieurverein zu Berlin-Brandenburg e. V.
Harald Bodenschatz, Benedikt Goebel, Christina Gräwe, Peter Lemburg, Marcus Nitschke, Wolfgang Schuster
The first volume offers an insight into an array of different topics, such as Berlin's role as the capital of Germany, its relationship with Brandenburg, and the historical, economic, and social conditions that have driven the growth of the urban area over the centuries. The second volume delves deeper into the designs for the future. It comprehensively documents the International Urban Planning Competition for Berlin-Brandenburg 2070, held by the states' association of architects and engineers. It also explores how other European capital regions – London, Moscow, Paris, and Vienna – are seeking to ensure sustainable urban development in years to come.
225 x 280 mm
416 + 332 pages
550 + 350 pictures
2 vol. (Softcover) in slipcase
ISBN 978-3-86922-249-3
Sold in the exhibition, without slipcase at the price of 30 € including carrier bag
Or the bookstore edition in a slipcase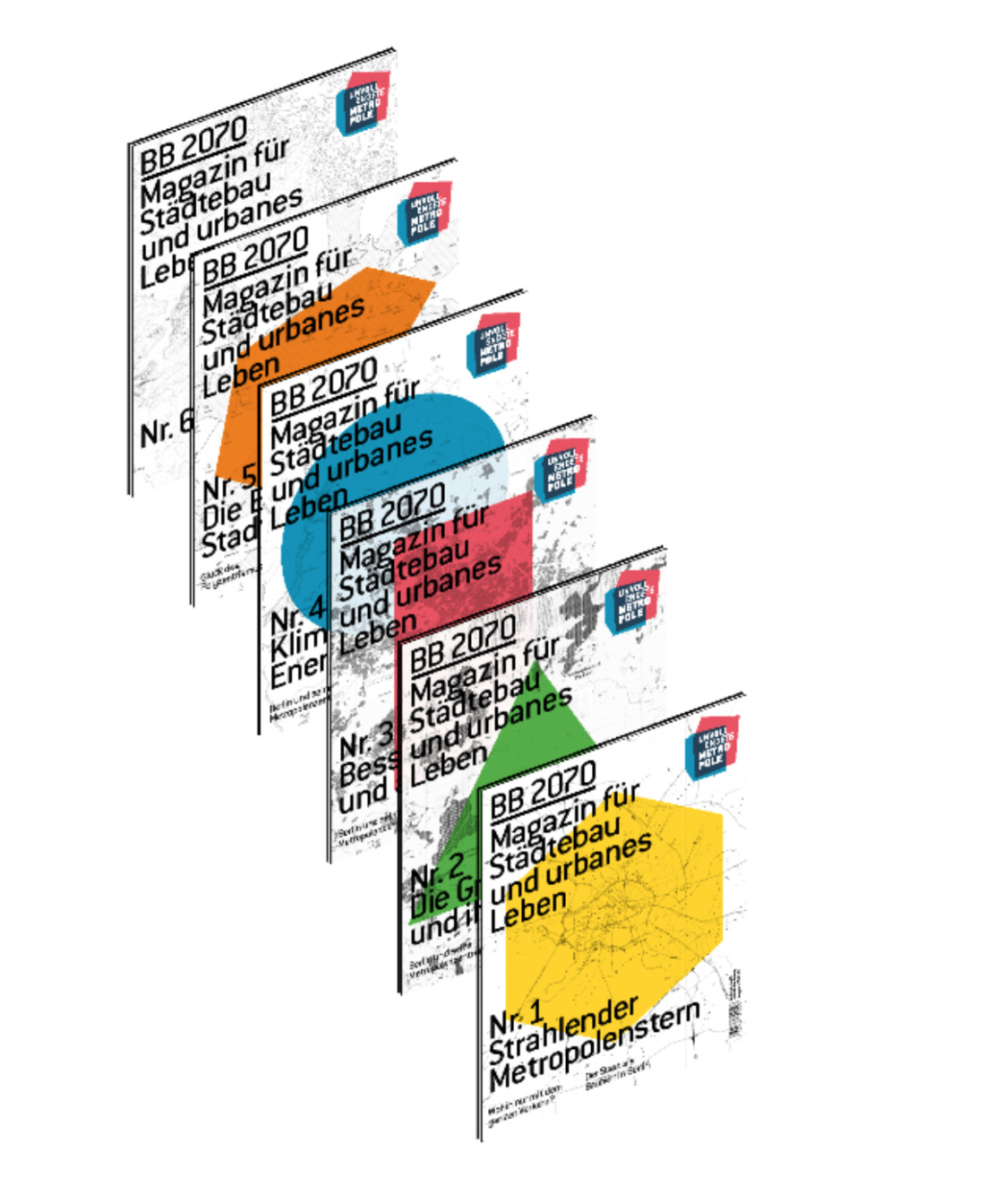 BB 2070 – the magazine for town planning and urban life
Editors: Architekten- und Ingenieurverein zu Berlin-Brandenburg e.V
Prof. Dr. Harald Bodenschatz, Tobias Nöfer
How do we create high quality housing? How do we work to Corona? How do we secure our green spaces? How do we get away from the "cars first" principle? Will we continue to live together in a liveable metropolis of freedom? Answers can be found in the six issues of BB2070, which are published every fortnight from 22 October to 18 December. The magazine is a journalistic companion to the 100th anniversary of the Greater Berlin Project with the "Unfinished Metropolis" exhibition, the Berlin-Brandenburg International Ideas Competition and the top-class series of talks at the Kronprinzenpalais.
195 x 270 mm
44 pages with numerous illustrations
1st edition, 6 issues
ISBN 978-3-8030-2206-6
Sold individually in the exhibition at 6 Euro – only available in German.
From 18th of December also collected in a high-quality book slipcase.
Order of single issues and subscription of the booklet collection also online.